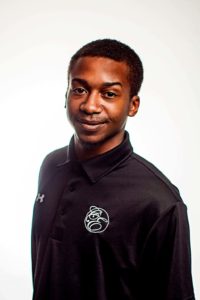 The team would like to extend a welcome to our newest member of the team, Rahn Rice. (Pronounced Ron) Rahn's got people skills! We haven't initiated him officially yet (meaning we haven't had him buy us lunch!) but we are working on it. Seriously, we love to celebrate the great qualities of our team and Rahn is great with customer service.

Initially hired to assist with production, Rahn stepped up our game by demonstrating his problem solving skills and puts into practice how a business should be positioned to solve a problem. In other words, Rahn is a solutions guy. He's a great asset to the team and is always ready for a challenge. Though Rahn has a sales background, he is more interested in what Alan Berg refers to as, "Helping people buy;" — less of a strategy and more about honesty. Treat all sales as if it's the first time for the customer and walk them through the process. Crow Entertainment has always believed in this approach and it's nice to have Rahn recognize and put into practice the things we believe in.
Upon being hired Rahn helped with up lighting events, programming light fixtures and creative placement of colors for weddings. He served and continues to serve as the production manager for our youngest team member, DJ AA-Ron who travels all over to perform as a DJ for schools, private parties and some corporate clients. In addition, Rahn packs a punch in our Photo Booth division since he stepped up to the challenge of being an operator. We have received numerous compliments and referrals from events Rahn has managed. He's a great asset to that side of Crow – the side we call Smile & Click Booth. The photo booth division is growing thanks to Rahn's diligence on making sure that everything we do is excellent.
Rahn's assistance with production ensures that equipment is ready and that all the things you don't see are working properly for each event. The experience he will be gaining behind the scenes will allow him to make an eventual transition into the DJ Division as a Captain – a position requiring 3 seasons (27 months) of service and training. We refer to the training as flight time. Once an individual has demonstrated that they can take off and land, they start getting assigned solo events. Choosing to use the 3 season approach ensures that only serious DJs are put on the flight schedule. We often use flying or aircraft terms like "preflight" on purpose and here's why. With flying, there's very little room for error and therefore in everything we do we need to be sharp, responsible and accountable. We have no doubt that Rahn will be an amazing DJ.
Until then, he works anywhere he is needed including the photo booth, video production, production assistant, event manager and driver. Rahn is a great networker and is helping to lead our outreach efforts as we continue to grow. Basically, he is down for whatever promotes and protects the brand. We hope that all of our clients get to meet Rahn. If you have an event coming up and you'd like to request Rahn as your photo booth operator, contact us. You'll love him!
In the meantime, please help us give a warm welcome to Rahn Rice to the Crow Entertainment team.