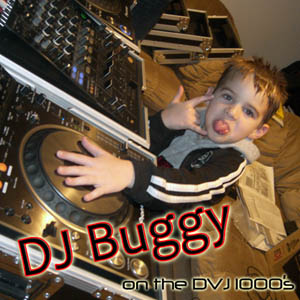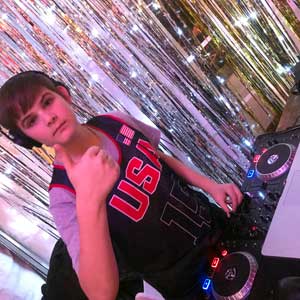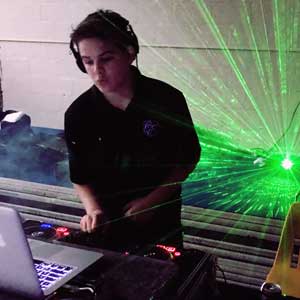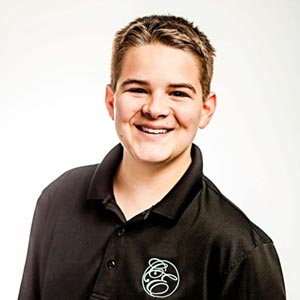 In February of 2018, Aaron McDaniel (aka DJ AA-Ron) was introduced to the Crow Entertainment team at our annual pre-season meeting as the new kid — a kid with passion for making music and mixing it up. Aaron is my son. He has been around music all of his 15 years. He is the youngest member of our team. His story is pretty cool to tell and his mom and I are super proud of him.

EARLY YEARS
At the age of 12, Aaron received his first official DJ system and began experimenting and emulating DJ recordings he would hear that I did on some of my events but also playing whatever music he could get his hands on. But that wasn't the earliest he had ever played around with a DJ system. From the time he could talk he was always fascinated by the blinking lights, the sound FX and the visual entertainment of DJing whether it was music or music videos. With his nickname at home being "Buggy," we would occasionally refer to him as "DJ Buggy." (see photo of Aaron on the original Pioneer DVJ-1000s) As he continued to grow, Aaron played music using software on his computer to make beats that he would rap to. He is all about sounds and putting music together. he enjoys the creative aspect of the process and I can certainly appreciate that. The kid has a heart for the artist side of the industry.
DEVELOPMENT & DRIVE
So, you can imagine how excited he was in February when I introduced him to the team as a performance DJ. To Aaron, this meant that he was surrounded by very seasoned DJs who would accept him as an equal. 2018 marked Aaron's first official season. Aaron demonstrated his skill at various private parties with one of them being the New Year's Eve party at the home of Anna Chaney from Herrington on the Bay. He went on to gain the attention of school officials and even private school leaders from other events who said "we want him." That started a small school tour for Aaron this year. This was exciting since he is homeschooled. Aaron's developmental issues (a story for another time) were not received well in a regular classroom setting and fellow classmates weren't always the nicest about it. Bullying was a real problem for him as he was often verbally and physically pushed around by other students. We decided that homeschool was the best option. It ended up being a blessing because he got connected with a couple of homeschool co-ops, made some friends and was invited to perform for their school functions also. Now his calendar was filling up with school shows. For a 15 year old, this was a very cool thing as it allowed him to engage socially with his peers on a level that was different than anything he'd experienced before. He gained a lot of respect and more importantly, he was showed a lot of love from kids and adults. His involvement with the various school systems as a DJ for their school dances has helped tremendously with his leadership as a DJ but most of all his growth as a productive young man. He's seeing the importance of serving others and ultimately, what it takes to run a small business.
OWNING WHAT HE DOES
Aaron understands what the Crow Entertainment brand stands for and he is very good about protecting and representing it with excellence. The advantage Aaron has working with our team is that his events are well thought out, planned and the aesthetics of his setups are always very detailed from tablecloths, to dress code to very clean wire placement—details matter. He is a professional DJ and that is how he is addressed. Aaron is very neat and methodical when he works and is the consummate professional. He knows that having the backing of our brand comes with a great responsibility for consistent excellence. There's pressure, expectations but most of all the satisfaction of knowing that he made a difference at someone's event.
THE FUN OF IT
He is definitely a crowd favorite. He was the DJ at the North Beach Farmers Market this year on many occasions playing everything from golden oldies, Motown and current pop music for the hundreds of families who gather there on Friday nights from Spring until Fall. Aaron has helped with events hosted by End Hunger Calvert County and the Chesapeake Church's Pumpkin Patch Party as the headliner DJ. You gotta love this kid's drive. The best part about his involvement with our company is that he did it all on his own and asked to be on the team. Though he was only 12, I suspected that the day would come when he wanted in but I didn't push it. Three years after he asked, he made the team. Between the time he asked and the time he was accepted, he practiced. It has paid off for him and continues to be an excellent job for him to have while he gets his education. Who knows, he may be my boss one day!
PERSPECTIVE
As a dad, it continues to be a pleasure watching him develop and seeing how he interacts with people. He genuinely wants to provide a good service while mixing it up on his DJ controller. He's had many years of just observing what the team here at Crow does. Seeing it come out when he performs is pretty awesome. From private parties, school events and even events where security clearance is needed on Andrews Air Force Base, this kid is finding his way and continues to sharpen his skills at each event where he has the opportunity to serve as DJ. He is showing some wonderful signs of mature leadership in this business and enjoys being part of a team. He is an officially recognized member of our team and one of the youngest professionals I know. Now, if I could just get him to clean his room!!
Though our team has officially welcomed Aaron, this story about him was overdue and we'd like to give everyone a chance to welcome him and learn a little bit about DJ AA-Ron. You can also follow Aaron on Instagram @crowdjaaron