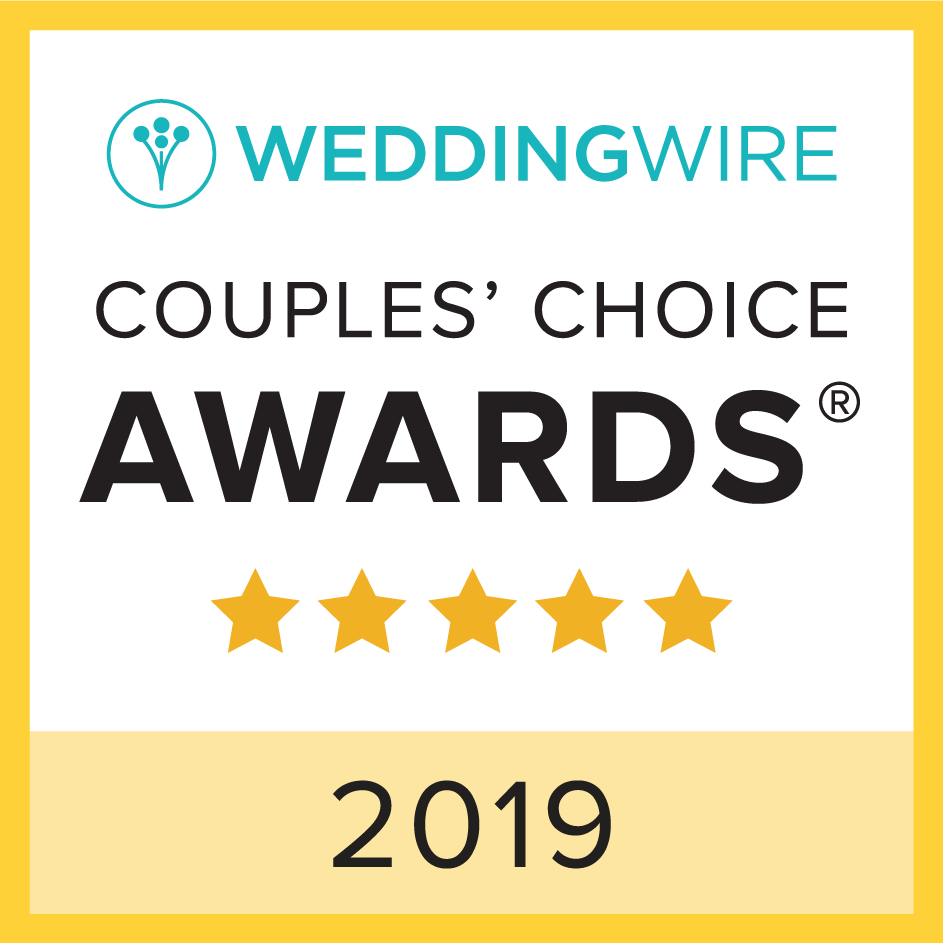 CROW ENTERTAINMENT NAMED WINNER OF THE KNOT BEST OF WEDDINGS 2019 and WEDDING WIRE COUPLE'S CHOICE AWARD FOR 2019

Thirteenth Annual Best of Weddings Awards Honor the Top Wedding Vendors Across America
THE KNOT 2019
Huntingtown, MD The Knot.com is pleased to announce that Crow Entertainment has been selected as a 2019 ­­winner of The Knot Best of Weddings awards, an accolade representing the highest- and most-rated wedding professionals as reviewed by real couples, their families and wedding guests on The Knot, a leading wedding planning brand and app. This is the 9th year Crow has been named a winner of The Knot Best of Weddings awards and winning the Hall of Fame award in 2015.
In 2019, only four percent of hundreds of thousands of local wedding professionals listed on The Knot received this distinguished award. In its thirteenth annual year, The Knot continues its longstanding tradition of supporting local wedding vendors with The Knot Best of Weddings 2019, an annual by-couples, for-couples guide to the top wedding professionals across the country. To determine the winners, The Knot analyzed its millions of user reviews across various vendor categories, including venues, musicians, florists, photographers, caterers and more, to find the best and most rated vendors of the year. These winners represent the best of the best wedding professionals that a couple should consider booking for their own unique wedding.
"Receiving awards serves as a reminder to our team to always bring your best to all events" says Brian (DJ Brian Crow) Owner of Crow Entertainment. We book a handful of events from the Knot directly or through a stream of referrals that ultimately end up at the Knot. The Knot helps us keep track of our leads and because it's a trusted name, it goes well with our brand. The Knot makes it easy for couples to connect with and book just the right wedding professionals to create their perfect wedding day.

The Knot Best of Weddings gives couples the confidence to find and book the best local vendors to bring their unique wedding visions to life. In combination with years of trusted content, The Knot's innovative technology makes planning one's wedding celebrations easier and more enjoyable.

Visit Crow Entertainment on the Knot.
https://www.theknot.com/marketplace/crow-entertainment-llc-djs-and-production-huntingtown-md-263440

The 11th Annual WeddingWire Couples' Choice Award

One of my favorite things to do at the end of the year when our season winds down is to share the news to the team that we are winners. One of the nicest things about our team is that nobody basis our success on individual achievement. We all make it happen together because of our commitment to excellence and our loyalty to the brand. "We are for each other no matter what" says Brian (DJ Brian Crow) about his team.
Awards® Huntingtown, January 08, 2019. Crow Entertainment LLC was announced a winner of the renowned WeddingWire Couples' Choice Awards® in Huntingtown. WeddingWire, Inc., a leading global online wedding marketplace, annually celebrates the top wedding professionals on WeddingWire across more than 20 service categories, from venues and caterers to florists and photographers.

HOW IT HAPPENS
Distinguished vendors who win this award exhibit superior professionalism, responsiveness, service, and quality when interacting with the five million monthly consumers who turn to WeddingWire to help ease their
wedding planning process. Crow Entertainment LLC received this esteemed award based on their outstanding experience working with real newlyweds.

WEDDINGWIRE FACTS
WeddingWire, Inc. is a leading global online marketplace connecting consumers with local wedding
professionals and a suite of comprehensive tools that make wedding planning easier. Operating within a $250
billion industry, WeddingWire helps 16 million users every month find the right team of wedding professionals to personalize and pull off their special day.WeddingWire features more than three million reviews, and these notable vendors all received prompt, reliable, and quality feedback.

WEDDINGWIRE CEO REMARKS
"We are celebrating our 11th annual Couples' Choice Awards, where we honor our vendors who help make millions of couples' big day one to remember," said Timothy Chi, CEO, WeddingWire. "Not only are these hardworking and distinguished wedding professionals, such as Crow Entertainment LLC, a fundamental part of the wedding planning process for engaged couples, but they help make WeddingWire a trusted source for wedding planning. We congratulate everyone on this well-deserved achievement."

Crow Entertainment LLC is honored to be the top wedding businesses in on WeddingWire.com. If you'd like to schedule an appointment, learn more about our history and how we can help you please schedule an appointment.