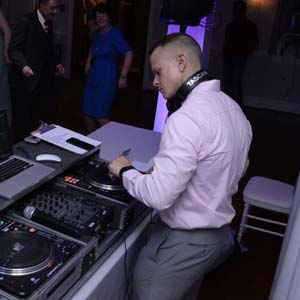 CJ Curtis is a wedding and event specialist. His abilities as a DJ will keep the dance floor packed. His skill and professionalism puts any client at ease without missing a beat. CJ is the
Program Director
for Crow Entertainment and oversees the day-to-day operations as well as music rotation. CJ enjoys spinning all types of music and loves to beat mix. He mixes many genres of music together when the time is right at an event. He has a vast knowledge of all types of music and is happy to take requests. Conforming to the needs of any event is no problem.
There are many DJ's in the industry but only a few who practice their craft on a regular basis and study music as well as its history. CJ carries the Crow Entertainment philosophy that states, "if it's not perfect, it's not right." CJ is a communications major and studied broadcasting and production.
Whether it's a wedding, school event, corporate function, or anything else, he continues to be a versatile DJ spinning Hip-Hop, R&B, Latin, Top 40, Dance / Electronica, Dancehall Reggae and the classics. He has an excellent customer service record and has received numerous letters, reviews, and recommendations.